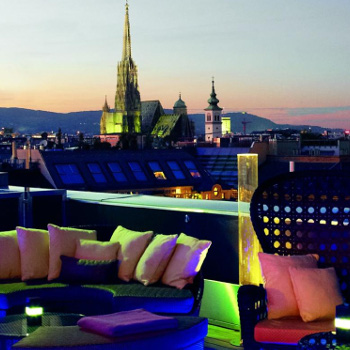 Ritz-Carlton Hotel – Vienna, Austria

Love chocolate? Like the decadent desserts that inspired its décor, The Ritz-Carlton, Vienna offers a luxury hotel experience that is both indulgent and familiar. Set within four historic palaces, the five star hotel blends renaissance, baroque and gothic influences with modern amenities including the amazing "Atmosphere" Rooftop Bar & Lounge overlooking the city, a cool spa and an indoor pool with classical music playing under water. The on-site steakhouse lets you choose a knife from a variety of options, and the hotel, located on the famous Vienna Ringstrasse and adjacent to historic Stadtpark, allows for easy exploration of top attractions, many of which are within walking distance. Did we mention the rooftop bar with Vienna's smallest Christmas Market?
To experience the Ritz-Carlton Vienna yourself, request a quote for our Bohemian Heritage program, or contact us for a tailor-made journey to Vienna.